Ideology and Economic Reform Under Deng Xiaoping, 1978-1993
---
Author/Location: WEI-WEI ZHANG is a Research Fellow at the Modern Asia Research Centre, Geneva.
---
Series: Graduate Institute of International Studies, Geneva
Estimated / Publication date: Published 1996
Format: 234 x 156 mm
Binding: hardback
Pages: 250
Price: £65.00/$110.00
ISBN: 0 7103 0526 5
Illustrations: 0
Subject Areas: China Studies, Asian Studies, Economics, Politics

---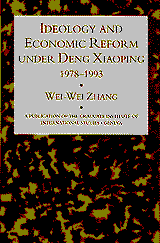 This is a probing study of the interactions between ideological trends and economic reform in the era of Deng Xiaoping. It explores an important but frequently neglected issue in the contemporary study of china - the transformation from the orthodox anti-market doctrine into a more elastic and pro-business one, and from Mao's radical, totalitarian approach to Deng's gradualist, developmental, authoritarian approach.

Based on a well-defined theoretical framework, the author makes a critical survey of many primary sources including official documents, policy statements, memoirs, and interviews, while exploring the origin and themes of China's major ideological trends since 1978 and how they affected the pace, scope and content of economic reform.

The study focuses on the origin and evolution of Deng's doctrine of 'socialism with Chinese characteristics' and its impact on the reform program. Wei-Wei Zhang's unique perspective brings out thought-provoking explanations of the nature of Chinese politics under Deng Xiaoping in general, and the politics of China's 'gradual approach' in reform in particular.
Contents:

Introduction.


Why Ideology?
The Concept of Ideology.
Methodology.

1. Ideology and China's Modernization in Historical Perspective.


Overview.
The Soviet Model (1953-7).
The Maoist Model I: the Great Leap Forward (1957-60).
The Maoist Model II: the Cultural Revolution (1966-76).

2. The First Cycle: From the Debate on the Criterion of Truth to Socialism with Chinese Characteristics (1978-82).


Major ideological Trends.
Ideology and Reform Policies.

3. The Second Cycle: From New Versions of Marxism to the New Technological Revolution (1983-84).
4. The Third Bourgeois Liberalization.
5. The Fourth Cycle: From the Primary Stage of Socialism to Deng's Talks in South China (1987-92).
6. The 14th Congress: the Establishment of Deng Xiaoping's Theory (1992-93).
Conclusions.
Selected Bibliography.
Index.

Kegan Paul International. Tel: (44) 0171.580.5511, Fax: (44) 0171.436.0899
Email: books@keganpau.demon.co.uk
Web: www.demon.co.uk/keganpaul
P.O. Box 256, London WC1B 3SW, England.




EURODOS Shop
---
Copyright © 1999 EURODOS, Amsterdam.